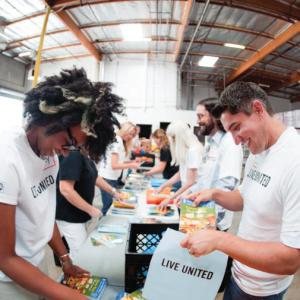 Creating a Thriving Community
Year-round, United Way of the Southern Tier is hard at work researching community needs, investing the money raised, and tracking results.
The Focus
United Way is focused on creating large-scale, population-level social change in the Southern Tier.
Breaking cycles and improving the quality of life for those in our community depends on engaging the entire community, and on doing things differently. 
To ensure lasting change, United Way of the Southern Tier utilizes a planned approach, with objectives that include:
Identifying root causes within the strategy areas of early childhood success, basic needs, and senior supports.
Creating game-changing impact by investing in solutions that are sustainable, scalable and measurable. 
Engaging you in the work and providing opportunities to get involved. 
Investing in innovative social ventures to help address old problems in new ways.
Advocating by connecting you with ways to advocate for public policy.
---
Program Partnerships
At the core of the partnership and program support process is a set of five key investment values that drive all funding decisions for United Way. They consider client need, the program's demonstrated ability to achieve positive results for the people it serves, how well the program aligns with United Way's strategic direction in the community, how effectively the program uses a broad array of resources to get results, and its efforts toward continuous learning and program improvement. Well-run programs that align with identified priorities and get solid results are good investments for our community. See Program Partners List
Donations are invested in programs and services that align with researched community priorities. Learn more about each: