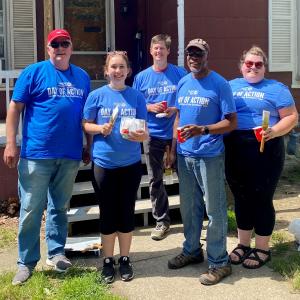 United Way of the Southern Tier sponsors an annual day of volunteering at nonprofits throughout our community. 
The 2022 Day of Action is Friday, June 10! 
Volunteers will take part in more than 20 projects this year, ranging from landscaping and painting to helping at golf tournaments, organizing an office, or assisting with administrative tasks.
"Volunteers are the backbone of the local non-profit community, providing valuable support and allowing organizations to focus their efforts and, importantly, financial resources on serving residents in need," said Stephen M. Hughes, president & CEO of United Way of the Southern Tier. "United Way is appreciative of all who volunteer on Day of Action and every day."
While all of the 2022 Day of Action projects are filled, non-profits throughout the community have year-round needs. See the list of needs here
Groups, businesses and individuals interested in the 2023 Day of Action should email or call 607-936-3753.