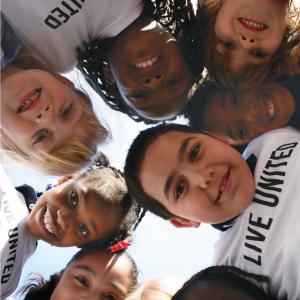 Create a Thriving Community
Donating to United Way is an effective way to create a thriving community!
When you give, you help United Way achieve measurable results and improve lives in our community. You can donate online or download a pledge card.
---
TOP 5 REASONS TO GIVE TO UNITED WAY
REASON #1: IT'S THE MOST EFFICIENT AND EFFECTIVE WAY TO CREATE A THRIVING COMMUNITY.
A gift to United Way is an investment in our community. All of us have individual causes that we support, but United Way isn't about a "cause." It's about the quality of life for every person and every family.
REASON #2: UNITED WAY STRATEGICALLY TARGETS THE ROOT CAUSES OF SOCIETAL ISSUES.
The social challenges our community faces are incredibly complex and interrelated. These are not single, isolated issues. And there are no single, easy solutions. United Way of the Southern Tier focuses on improving the lives of the people that live in Steuben and Chemung Counties by addressing the root causes of most of the problems in the community. Using this approach through Southern Tier Kids on Track, Southern Tier Basic Needs Network, and Southern Tier Senior Supports will undoubtedly change the lives of every person in our community.
REASON #3: REINVEST BACK INTO OUR COMMUNITY.
Donating to United Way is an investment back into Steuben and Chemung Counties. We partner with over 80 local programs to deliver services that not only help people, but also provide them tools to help themselves. Your donation to the Game Changer's Fund and Impact Areas (Kids on Track, Basic Needs, Senior Supports) stays right here in our community.
REASON #4: UNITED WAY INVESTS IN PROGRAMS THAT HAVE BEEN PROVEN TO WORK, NOT SIMPLY IN AGENCIES THAT DO "GOOD WORK."
By focusing on evidence-based programs and promising practices with demonstrated results, United Way ensures that every gift is invested wisely and well.
There are many "feel good" efforts happening in the community, but not all can demonstrate that they make a real difference. Programs that have shown great promise, or that have actually achieved meaningful results in the issue areas we have identified, can strengthen the community and make the most effective use of limited resources.
REASON #5: UNITED WAY HOLDS AGENCIES ACCOUNTABLE FOR MEASURABLE RESULTS.
United Way monitors quarterly the programs it funds to ensure that intended results are being achieved. But it also evaluates its overall funding strategies to ensure that progress is being made holistically.
As multiple community partners come together to make large-scale social change, we are building the framework and trust necessary to continuously learn and improve, while maintain accountability for every organization involved.